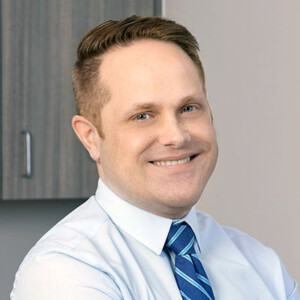 Chase Blackford, D.O
Internal Medicine
Dr. Chase Blackford is a dedicated and compassionate Internal Medicine Physician, born and raised in Phoenix, Arizona. His passion toward medicine stemmed from his work with the Civil Air Patrol, where he served as a first responder and field medic. He was later promoted to the commander of Squadron 302 and worked with the U.S. Air Force to train future recruits.  He graduated Arizona State University with a bachelor's in Microbiology, with a focus on disease management and epidemiology. For many years he worked with the county epidemiologic service to map the outbreak of HIV/AIDS within the underserved populations. He then transitioned to work with the Maricopa County Sherriff's Department where he served as a first responder and a member of the Community Emergency Response Team. His experience as a first responder has shaped his patient care to emphasize compassion and perseverance. Dr. Blackford completed medical school at Marian University in Indianapolis, Indiana, prior to attending residency in sunny Palm Springs, California. There he served as the chief medical student coordinator, with a passion to one day to become a teaching physician.
Board Certifications: American Board of Internal Medicine
Education: Doctor of Osteopathic Medicine – Marian University in Indianapolis, Indiana
Residency: Internal Medicine – Desert Regional Medical Center in Palm Springs, CA
Personal: Dr. Blackford enjoys skiing, travelling, and studying various cultures and their languages.
Affiliations:
• American Osteopathic Association
• American College of Physicians
• American Medical Association
---