Bioidentical Hormone Therapy: What are bio-identical hormones?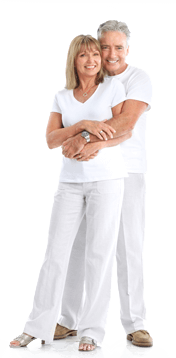 The term bio-identical designates hormones that are synthesized to be identical to those your body makes. This sets them apart from the synthetic compounds meant to mimic natural hormone function, such as medroxyprogesterone (Provera) and conjugated equine estrogen (Premarin). Testosterone and other hormones such as DHEA and oxytocin are also available as bio-identical formulations.
Bio-Identical does NOT mean that the hormones are "natural". Bio-Identical hormones are synthesized via pharmaceutical production methods like other drugs but have the same exact structure to your body's own hormones. "Natural" implies a source from nature such as soy, which while similar in structure, is NOT the same.
OnPoint Family & Internal Medicine DTC: has been utilizing bioidentical hormone therapy treatments for many years as a means to help individuals who are suffering from energy loss resulting from aging, menopause, and andropause. Bioidentical hormone therapy treatment at OnPoint Family & Internal Medicine DTC: in Denver involves the use of singular or a combination of hormones, including but not limited to the following: estrogen, progesterone, testosterone, thyroid hormones, and HGH. Additional medications may be prescribed in order to achieve the desired treatment results.
Bioidentical Hormone Therapy Treatment Process
Thorough evaluation of your health issues and concerns
Physical health examination
Laboratory testing to detect hormone levels and abnormalities
Prescription for hormone therapy regimen
Diet and weight loss/exercise program to supplement hormone function (if necessary)
Nutritional supplements and other medications (if necessary)
Patient follow-ups to track progress
Improve the way you look and feel
It is possible to change the way you look and feel with the help of bioidentical hormone therapy. The bioidentical hormone therapy specialists at OnPoint Family & Internal Medicine DTC: can help turn back your body's biological clock and leave you feeling better than you have in many years.
Benefits of Bioidentical Hormone Therapy
For Women
Improves energy levels
Improves mood
Eliminates night sweats and hot flashes
Improves memory and concentration
Improves sex drive
Prevents vaginal thinning & dryness
Improves fat loss and muscle tone
Decreases skin winkles
Protects bones from osteoporosis
Reduces risks of heart disease
For Men
Improves energy levels
Improves memory & concentration
Improves sleep
Increases muscle mass and strength
Improves sex drive
Improves fast loss and muscle tone
Helps hair re-growth on scalp
Improves bone strength
Decreases joint pain and muscle aches
Protects against heart disease
Declining hormone levels usually coincide with a decrease in your vitality and your ability to remain youthful. Being unable to enjoy life the way you did in the past can leave you feeling sad and disheartened. The good news is that the medical specialists at OnPoint Family & Internal Medicine DTC: in Denver will work with you to develop an hormone replacement therapy program that can help reverse your decreasing hormone levels and restore your vitality.
Menopause and Bioidentical Hormone Therapy
Menopause is something that all women must face. While women usually reach menopause by the age of 50, many go through this biological change at a younger age. Women who utilize bioidentical hormone replacement therapy obtain relief from menopause symptoms because it not only makes them feel better, but also it makes them look younger. The benefits of bioidentical hormone therapy are immeasurable to women in menopause. Bioidentical hormone therapy treatments administered at OnPoint Family & Internal Medicine DTC: Health in Denver will help ensure women remain in control of their blood pressure and weight.
---
Contact us today for more information. Call (303) 694-5757 to request a consultation today!