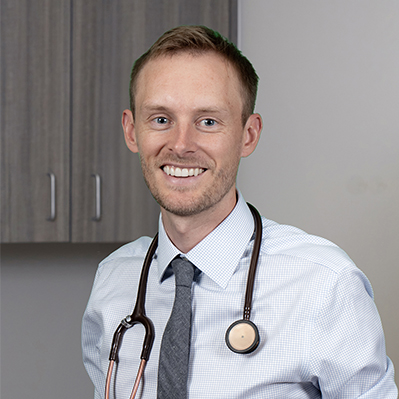 Nate Hainsworth, DO
Dr. Nate Hainsworth is a board-certified family medicine physician who has been practicing in the Denver area since 2020. He is passionate about building long-term relationships with his patients and believes in taking an evidence-based, individualized approach in every situation. His special interests include sports medicine, family planning, in-office procedures, and care of chronic diseases.
Originally from Lindon, Utah, Dr. Hainsworth received a bachelor's degree in exercise science from Brigham Young University. He received his medical degree from the University of New England and completed his family medicine residency in Denver, Colorado. During his time in residency, he obtained track certifications in both sports medicine and wilderness medicine.
His hobbies often take him outdoors. He loves rock climbing, is an avid marathon runner, and enjoys exploring the Denver area with his wife. He is also a classically trained violinist and pianist.